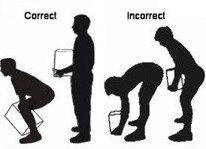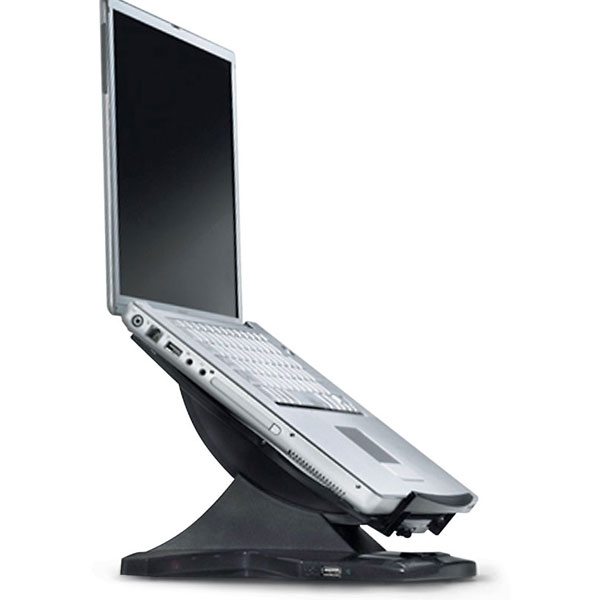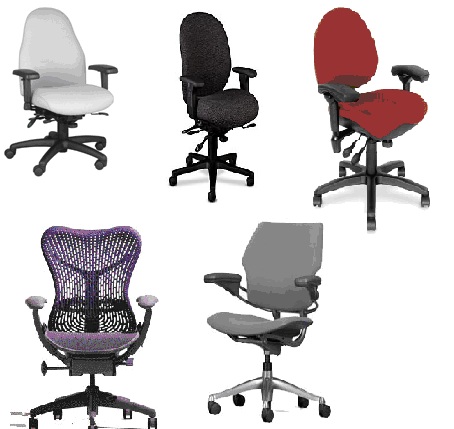 WORKPLACE ERGONOMICS
Train-the-Trainer Training
in Arabic
December 15 - 17, 2013
Amman - Jordan
Date: December 15 - 17, 2013
Sadeen Hotel & Suites
Amman - Jordan
When using your workstation,
Do you have Back Pain?
Do you have Neck Pain?
Do you have Wrist Pain?
Do you have Arm Pain?
Do you feel exhausted?
Do you feel uncomfortable?
This training is organized by:
DeveNova Consulting (Canada) jointly with Daar el Durar (Jordan)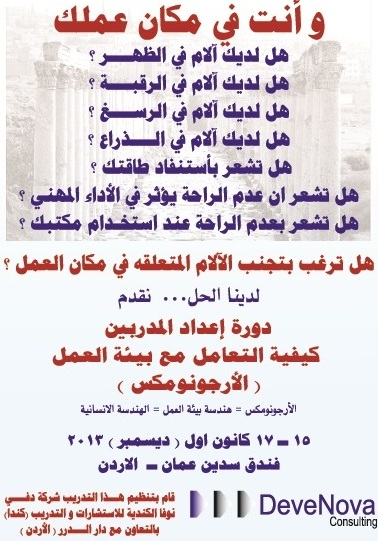 MODULE DESCRIPTION
Ergonomics: focuses on human beings and their interaction with products, equipments, facilities, procedures, and environment used at work and everyday living. Due to the increased need for ergonomics, it is recommended to consider implementing ergonomics at the workplace among all employees. Workplace Ergonomics Train-the-Trainer Training course will be held for 3 days (18 hours). It will provide the participants with experience and required skills to conduct workplace ergonomics awareness training as well as conduct skilled one-on-one office ergonomic assessments. The participants with be awarded a certificate of recognition.
This course in designed for people from various industries and work arenas and it covers:
Ergonomics for sitting employees

Ergonomics for Standing Employees

Ergonomics for weight lifting

Ergonomics and occupational risk
For various industries such as:
Banks, schools, universities, call centers, restaurants, sales vendors, technical industries, hospitals, hotels, interior design, architecture firms, government offices, etc.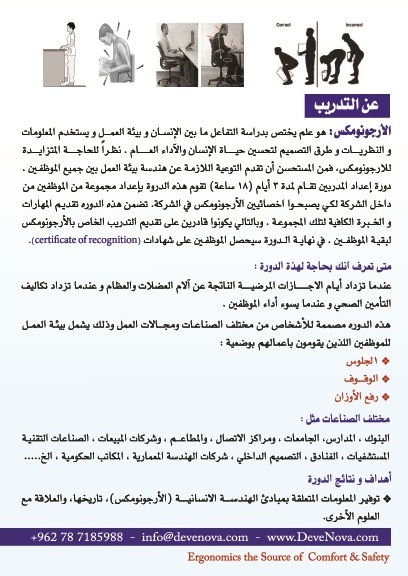 MODULE OUTLINE
To provide information regarding the principles of ergonomics; its history and relationship with other sciences.

Will provide the participants with the fundamental knowledge and skills to identify risk factors, workstation deficiencies and make the recommendations necessary for correction.

Will provide information about musculoskeletal disorders, health risks, and ergonomic exercises to avoid the problems.

Will also provide the participants with the information necessary to optimize the workstations and develop improved work methods.

Includes 'hands-on' training with actual workstations in the work environment and interaction with employees.

Also includes office ergonomics assessment techniques.

At the end of the training, the trainees and future trainer will learn to work SAFE, RIGHT, SMART, and HEALTHY
TRAINER AND FACILITATOR
Your trainer/consultant will be Ammar Al Shalabi (MSc. - Ing., BSc. TE, P.Eng, Cert. PM): He works in the field of Ergonomics, New Product Development (NPD), Project Management, and Idea Management with 17 years of diverse international experience. He teaches, trains, evaluates, designs, and supervises projects for ergonomics and office human factors. He is regularly invited as a reviewer for the conference of International Business Information Management Association (IBIMA). In addition, He also researches and presents technical papers for international journals and conferences. He is a member in good standing in Engineers Nova Scotia, Canada (APENS).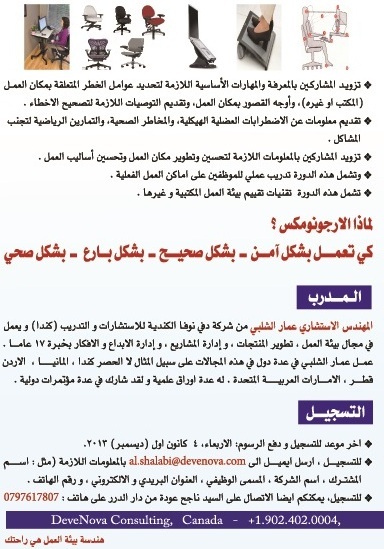 REGISTRATION
For registration from inside/outside Jordan; please send an email to al.shalabi@devenova.com with the following information: Name, Company Name, Position, Address, Telephone Number, and Email.

For registration from inside Jordan; you may contact Mr. Najeh Odeh at +962.797617807.

The registration must be completed by Wednesday 04, December 2013.
REGISTRATION FEE
For registration made from outside Jordan: Per Delegate: 1500 USD, 2 Delegates: 2800 USD, 3 Delegates: 3600 USD.
For registration made from within Jordan:
Per Delegate: 300 JD, 2 Delegates: 540 JD, 3 Delegates: 750 JD.
The fee covers: Attendance at all sessions, Training Material, Certificate of Recognition, Lunches, Tea/coffee/Juice Breaks, and Networking Opportunity.
PAYMENT METHOD
Payment is to be paid no later that Wednesday 04, December 2013.

For registration made within Jordan: Bank Transfer, Cash, or Check. Please contact Mr. Najeh Odeh at +962.797617807.

For registration made from outside Jordan: Please transfer the fee to:
Account info: 003-02533-1000652
Company Address: DeveNova Consulting, 58 Theakston Ave, Halifax, NS, B3P2S8, Canada.
Bank Info: Royal Bank of Canada
Bank Address: Halifax NS Almon ST BR, 5805 Almon Street, Halifax, NS, B3K1T7, Canada.
Swift Code: ROYCCAT2
Please indicate clearly on the transfer slip the reference ERGO2013. Please email us a copy of the transfer slip.
ACCOMMODATION
The training takes place at Sadeen Hotel and Suites (4 star) – Amman, Jordan. Hotel accommodation is not included in the fee. However, participants can book their room at discounted rate of 45% (subject to availability) by calling or emailing the sales manager Mr. Mohammad Hijazi at: Tel: + 962 6 551 47 33, Mobile: + 962 79 6378575, m.hijazi@sadeen.com. Hotel website: www.sadeen.com.
Room Rate after discount: Single Room JD 55.000 & Double Room JD 65.
CANCELLATION POLICY:
Cancellation made before Nov. 30, 2013 will be charged 20% administration fees. Cancellation made after that date will be charged the full fee (no refund)
This training will take place in near future in English language. if you are interested please let us know at the following email info@devenova.com and we will send you email with the information.
ستعقد هذة الدورة مرة اخرى باللغة الانجيليزية. اذا كنت راغبا بالحضور ارسل لنا رسالة على info@devenova.com و سنقوم بابلاغك بالموعد.